What did Mozart and Michelangelo have in common? Aside from creating art, living a long time ago, and having names that start with "M," these two artistic greats shared a love of pomeranians. Both men owned one.
If you're thinking about joining Mozart and Michelangelo in the realm of pomeranian owners, congrats! There is so much to think about when bringing home a new dog, like these ten big tips for pet owners. For many new dog owners, the first question is how much does a pomeranian cost?

Learning how much a pomeranian costs is a good first question to explore when considering a pet – but it shouldn't be your only question.
A pomeranian from a shelter or rescue will generally cost under $300, while a pomeranian from a good breeder will generally cost upwards of $1,500.
Depending on a variety of factors, the cost of a pomeranian cost will range from free to over $4,000.
Factors that Influence How Much Pomeranians Cost
Keep in mind that the ticket cost of your new pomeranian should not be your only deciding factor. A "cheap" puppy from a bad breeder will cost you more in the long run in health problems. Even if your budget-friendly puppy doesn't have health problems, the cost of the puppy is only the beginning. Learn more about the true cost of adopting a dog before taking the plunge.

Pomeranian puppies often cost more than adult pomeranians.
Different pomeranians will have different price tags. How much your pomeranian costs depends on:
Age. Older pomeranians will cost less, while young puppies will cost more.

Never bring a puppy home that's under the age of eight weeks. Their social development depends on being around their mother and siblings until at least that age.

Blemishes. Some breeders will often sell pomeranians that have "faults" or blemishes for less. Pomeranians that have the wrong coat color are inadmissible in the show ring but are great pets. If you aren't planning on showing your pomeranian, don't shy away from pomeranians with blemishes or faults.
Rare colors. Some breeders will charge more for pomeranian puppies that are rare colors. Puppies with especially bold markings or rich coloring will cost more.

To muddy the waters, what some breeders define a "rare color" is what another breeder would define as a "fault." The same goes for sizes – what one breeder calls "undersized," another breeder will call "teacup." Familiarize yourself with the AKC standard for pomeranians if you're confused.

Finding a pomeranian with good genetics and health testing will help ensure that your new bestie lives to have plenty of grey on her face!
Health testing. It's absolutely worth it to pay more for a pomeranian that has had health testing. This ensures that your new puppy is less likely to develop painful genetic conditions such as luxating patellas. While health tested puppies cost more up front, they will save you money in medical bills down the line.
Nearby competition. If you live in a state that's full of puppy mills or lots of breeders, you might be able to find a pomeranian puppy for a lower cost.
Registration status. You might have to pay extra for a pomeranian that is fully registered.
For most owners, registration status doesn't matter. Unless you're planning on competing with or breeding your pomeranian, you probably don't need to pay more for a registered pomeranian.
Reputability of the breeder. Breeders that do all of the proper health testing for their pomeranians, socialize the puppies properly, and raise the puppies indoors will often charge more to cover the cost of raising the puppies.
Caution: a high price tag does not mean that your pomeranian puppy is healthy or from a good breeder. Pet store puppies that come from a puppy mill may cost just as much as well-bred and well-socialized puppies from a top-ranked breeder.

There are plenty of awesome little pomeranians out there waiting for you to take them on their next adventure. Selecting a good breeder or adopting from a shelter helps keep future pomeranians safe and happy!
Your new pomeranian will cost less if you acquire it from a shelter or rescue. Your pomeranian will cost more if it's from a breeder or pet store. Sometimes, owners will have an "accidental" litter and give the puppies away for free or cheap. Depending on what you're looking for in your future pomeranians, you might want to avoid one of these accidental litters
Please avoid purchasing pomeranians from pet stores or anywhere where you can't meet the puppy's mother and see where the puppy was raised. This means that purchasing your puppy from Craigslist or a grocery store parking lot is off-limits. Your purchase tells the breeder that if they continue breeding dogs, people will keep buying them. Want to help a pomeranian? Rescue a pomeranian from a shelter instead.

"Teacup" pomeranians, or pomeranians under 7 pounds, will cost more in some areas than standard sized pomeranians.
How to Find a Pomeranian that's Right for You
With so much variety in how much a pomeranian costs, it's hard to know where to start. It's absolutely possible to find a great pomeranian for very cheap at a shelter or rescue, or spend over $2,000 on a genetic disaster from a sketchy breeder.
Pomeranians are the 35th most popular breed in the US, which means you should be able to find a good pomeranian breeder near you.

With a face like this, no wonder pomeranians are so popular!
When looking for a new pomeranian, don't just think about the price tag. Aside from considering how much a pomeranian costs, think about the following factors for where to get your pomeranian:
What are your goals for your pomeranian? If you just want a cute and fluffy companion, you might not need to spend thousands of dollars at a breeder. You can probably find a pomeranian or pomeranian mix at a nearby shelter for far less.
Age. Run away from breeders that are willing to sell their puppies younger than eight weeks old.
The parents. Avoid purchasing a pomeranian puppy without meeting the mother pomeranian first. You might not be able to meet the father, but the breeder should be happy to answer your questions about him.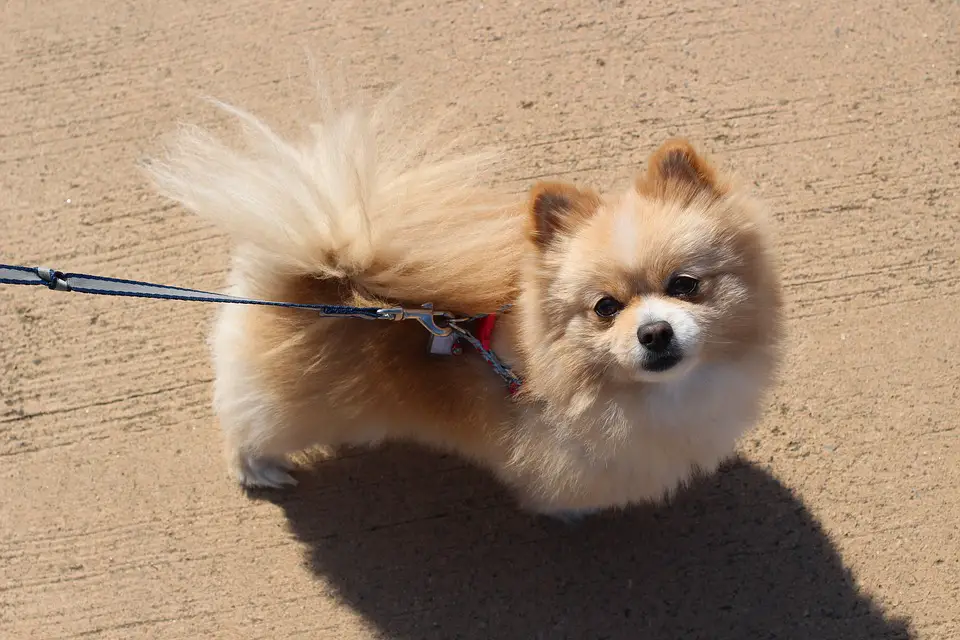 Health and a good personality should be the biggest considerations when purchasing a pomeranian. That way, you can enjoy more happy, long walks together!
Puppy raising area. Look for puppies that are raised indoors around kids and other dogs. Puppies raised in rich, safe, homelike environments will adjust to your life much more easily.

Early socialization helps prevent anxiety, aggression, and other problem behaviors. This is yet another good reason to avoid purchasing a pomeranian puppy from a puppy mill or pet store!

Health and genetic testing. It's worth it to look hard for a breeder that health tests their pomeranians.
Early socialization. Pomeranian breeders that participate in Puppy Culture or Early Canine Neurostimulation are worth paying more for. These pomeranian puppies will be more stable and confident around new things as adults. This makes them far easier to live with than pomeranians that are easily frightened!

If you're having a really hard time finding the right pomeranian breeder, consider looking at shelters and rescues for an adult pomeranian.
Be willing to walk away and wait for the right pomeranian puppy to come along. Waiting for the right puppy gives you more time to save up for your pomeranian. Picking the right puppy will help you reap the 30 benefits of owning a pet. Picking a puppy based solely on price puts you at risk for bringing home a puppy with health or behavior concerns.
Since there's so much variety in how much a pomeranian costs, it's important to do your homework. Do not trust that a high price tag means a well-bred puppy. Don't be afraid of looking at local shelters and rescues for a cheaper pomeranian. Puppies are really expensive, so don't let the cost of your new pomeranian be your deciding factor.