The festivities are all around us – both indoor and outdoor. However, outdoor activities can cause undue wear and tear on your dog's feet. Humans wear shoes when hiking or walking in the snow – why can't your pup? In this list, I am going to point out the 10 best dog boots that will treat your pup just right. I have listed mostly hard-sole boots for your pup. These are perfect selections for those hikes or walks through snow and ice. These boots stay on their feet and provide the traction they need to get from point A to point B. Please note that these boot companies suggest that your pup only wears these boots for 4 hours or less at a time and shorter sequences when you are first starting out.
Ultra Paws Rugged Dog Boot

If your dog is up for anything, these boots were made for him. These boots are fantastic for hiking and other activities with your pup. These have a hard sole that will allow for traction in the roughest situations. This brand comes with its own sizing chart to make sure your pet's feet connecting correctly during those long walks in the forest. Customers who have purchased these say that they are fantastic and durable.
Cotton Blend Winter Snow Walking Boots

So, you didn't think that boots could come with some cotton? Here is your solution. These were specifically created for winter weather and keeping up with all the wonderful effects of snow and ice. They look like moccasins, but they are very durable. This particular link will take you the small size that will fit a Yorkie. But the company has many different sizes available.
Color House Waterproof Pet Boots

So your dog loves swimming in the local lake? There are thousands of potential dangers lurking under the surface that could harm your pet's paws. These waterproof pet boots are there to fit like a glove and keep up with your pet's love for water. But don't let the water title concern you – these are also great for normal walking events. It even has some reflective tape for night walking.
All Weather Dog Boots with Reflective Velcro Straps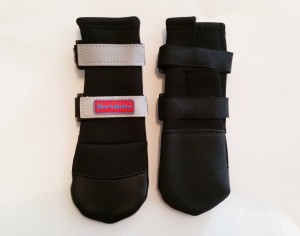 Compared to the previous items, these look like socks. But don't let the picture fool you. These are highly durable that conforms to your pets' paws and keep them clean and dry. These are not just for cold days and nights. These are fantastic for any type of activity including walking on hot asphalt. This product comes in 5 sizes and it will definitely meet the demands of the indoor lapdog to the adventurous outsider who wants to be king of the mountain.
Fashion Waterproof Dog Boots


For the fashion conscious dog who loves to go anywhere – now there is a color coordinating solution. This dog boot comes in Red or Blue with reflectors that will keep you styling during your walk in the woods. They are completely breathable and adjustable to make sure that they stay on your dogs' feet.
Color House Bone Non-slip Winter Dog Boots

Here is another fashionable boot for your pup. I am sure you could find a boot to coordinate with as well. These are made of Sherpa and rubger materials they come in brown or pink. But the best part is the little bone on the top of the boot. They are made for winter weather and they will be warm yet breathable. . This particular pair does not have any reflectors on the boots themselves. So you will probably want to make sure your dog's bandana or coat has come reflective aspects to it if you are planning to do any night walks.
Australia Antiskid Dog Sneakers


If you are like me, when you hear the word Australia, you think of warm weather and oceans. However, this set ships from the United States and it is made for winter walking. They have an added velvet element to them to keep your dog's feet warm. The rubber sole will keep the pet secure due to anti-skid protection. These are high quality boots that come in seal different colors: dark brown, light brown, black and pink.
Megipet Foldable Snow Boots

This boot combines two types of dog paw coverings to make a great combination boot. It is made of suede lamb, fleece lining and a rubber sole. The location of the Velcro is underneath the sock so that your pet's hair doesn't get caught. It comes in five different sizes. Easy to put on and off. This unique design is worthy of the 10 Best Dog Boots list.
Fashion Pet Arctic Winter-Proof Dog Boots


Fashion Pet has selected to list their boot sizes separately. The size listed here is size small but rest assured that there are many different sizes of the yellow dog boot. This Dog boot has a PVC coating on the shell to provide all weather protection – just think of it as a rain jacket in the form of boots! It is polar fleece lined. But this has something extra special – Velcro and bungee ties to make sure it stays on your pet's feet.
Camouflage Print Dog Boots

This is for the everyday dog that isn't going adventuring but likes taking walks with their best friend. This has a rubber sole with cotton and flannel tops of the boot. So you know this definitely breathes. There is even some matching sweatshirts available. These are not waterproof but they will definitely catch people's attention.
In Closing
So, I have posted something for the everyday dog, the indoor dog and the adventurous dog. Plenty of selections to make this the 10 Best Dog Boots list. This is a great starting list to see what you like or don't like in the boots. Are you in it for the fashion, flexibility or practicality there is something for everyone here in this list.