Are you looking for the 10 best dog bed liners? Dog bed liners are important to have if you wish to protect your dog's' bed. Some dog beds are rather costly to purchase so why not protect them with these handy bed liners based on our dog bed liner reviews.

Effective Dog Bed Liner

This dog bed liner will let your dog's bed remain safe from tearing. It will keep it clean and also dry precisely in the inner area. This bed liner's material is soft as well as flexible. This precise dog bed liner will hopefully let your dog's bed remain for longer as this liner will protect the bed. You will not need to waste more money purchasing a dog's bed. This liner comes in medium, large, X-large and also in a round shape. The prices range with the sizes. Being composed of waterproof material that is soft, lets this liner to keep the inside of your pet's' bed clean as well as dry. Your dog's bed interior will also be kept safe from getting mold, mildew, as well as unpleasant smells, plus allergens. The liner has a zipper opening making it simple to put on the bed. You can wash this in the machine and then hang it out to air dry. This liner should not be bleached.

Molly Mutt Armor Liner

Are you wishing to buy one of the 10 best dog bed liners for your pet? Molly Mutt has dog items which you can buy. Have a look at this one which comes in a size small, medium/large, huge, and also comes in a round shape. It is rather easy to wash this liner by wiping it with a towel. You may also put it in the washer. This liner will keep your pet's bed clean and safe from dirt. The complaint with this liner is that some people said it is not waterproof.

Drymate Whelping Liner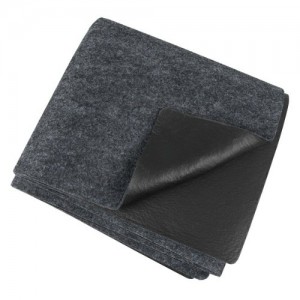 This liner is very good for puppies as it gives a sanitary whelping place. It is able to keep your floor safe. The cloth is such that slipping will not occur making it comfortable to lie upon. It has a soft surface that is also insulated, so that your puppies can feel comfortable on it. You can wash this liner in the machine. You can even cut this liner so that it can easily fit. It will absorb liquids not allowing them to pass through it. This liner is made to be durable. The complaint with this liner is that it will not stay for long and some puppies' nails tend to get caught within the fabric, some also complained that it is difficult to wash.

MidWest Eko Liner

This dog bed liner comes in many colors, for instance, camo green, tan paw, burgundy, navy, burgundy paw print, camo brown, navy paw print, tan paw print and also burgundy paw designs. You can choose the one that will look good in your home. It has a zipper which makes it easy to use. The covers are made to last for a long time. The sizes and prices vary with the colors. The complaint with this liner is that some dogs are able to tear it.

Pet Spaces Liner

Being in the 10 best dog bed liners list, this liner is made from polyester and is also machine washable. Its dimensions are 27 by 36-Inches. You should carefully measure your dog's bed preceding purchasing this liner. Your pet's bed will be kept safe from moisture with this liner thereby reducing bacteria and also odor. You can put it among your dog's bed cover as well as bed fill.

Buddy Beds Bed Liner

This dog bed liner is available in a large size or an X-large size. The material that this liner is made from is high performance material that is also found in tents, ski jackets, etc. This liner aims to stop liquids going into your pet's' bed. It is anti-microbial and also anti-bacterial. It is made from fabrics that are waterproof. If this liner has much contact with liquid then the liquid will go through it. This dog bed liner is rather costly. Buddy Beds sells variousitems for dogs.

AllerEase Dog Bed Liner or Protector

This dog bed protector or liner will protect your pets' bed from dirt. It is waterproof. It has a zip that makes it easy to use. You can wash this bed protector within the machine. It can be washed with hot water. This bed liner will be able to protect your dog from allergens. This liner or protector comes in two sizes. This is an affordable bed liner or protector which will be able to keep your dog and his/her bed safe and clean.

10 Best Dog Bed Liners: Orvis Bed Liner

This dog bed liner has been made so as to fit your existing liner. It is water-resistant. It has been made to prevent spills getting into your pet's bed. It is made from nylon and has a polyurethane coating. It has a zipper which is present at the bottom to enhance protection so that moisture cannot go through the zipper. This bed liner is not for memory foam. You can get this bed liner in a size small, medium and X-large. The shape of this liner is round.

Orvis Dog's Nest Liner

This is another dog bed liner form Orvis. It is round in shape and comes in a small, medium and large side. This liner will be able to replace the original liner that you have. It has non-woven fabric that is totally breathable. The polystyrene beads will be perfect for dogs that adore digging preceding sitting down. This liner is not for dogs that chew. The natural cedar of this liner is able to let this dog liner smell good. If you have a hunting dog then cedar is regarded as not being good for them as it disturbs their scenting abilities.

IMAC Morfeo Bed Lining

This bed lining is made within Italy. It is a cotton lining made precisely for IMAC Dido 110 beds. You can find various patterns as well as colors and also different sizes, i.e. 25 Inch, 20 Inch, 37Inch and 42 Inch bed linings. These bed linings are said to be high quality ones. They are comfortable and also facile to clean. They can be cleaned by hand and also within the washing machine.

Dog bed liners are necessary if you wish to keep your dog in a healthy surrounding. You can pick one from the 10 best dog bed liners from our dog bed liner reviews and let your dog enjoy sleeping on his/her bed comfortably and safely.